Aire Nest DELUXE Hammock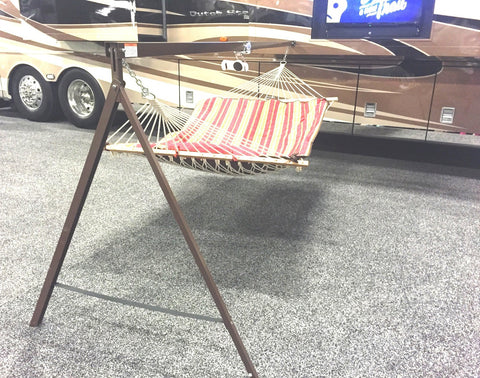 Aire Nest DELUXE Hammock   
As we're no longer in the era of the 70's or 80's, we figured hammocks were long overdue for a modern makeover.  :)   We started with a blank sheet of paper and totally re-imagined the traditional hammock, redesigning it, from bottom to the top ~ literally!    Now you can really relax, enjoying your leisure time in unparalleled ease, style and total comfort....with the exciting new overhead bar Aire Nest DELUXE Hammock.    
The new Patent-Pending overhead Aire Nest frame design telescopes to open up some incredible new possibilities: Simple 1-minute frame and hammock setup?  Yes...as in just 60 seconds!   Lightweight and Portable?  Yes!   Read that new e-book or watch da big game/race on your iPad or tablet?   You betcha, and hands-free viewing to boot...no kidding!!!  
We started with a few simple ideas:
Comfort is King:  The Aire Nest DELUXE Hammock setup provides the lucky user unmatched cozy comfort, sporting an attractive full-length quilted pad with pillow, over the softest cotton rope. (Can you say Ahhhhhhh?!?)
Quick is slick: The pin-and-socket frame concept uses a permanently mounted socket to accept the frame pin, making our telescoping frame setup super-simple and a breeze!  The strong, lightweight aluminum Aire Nest DELUXE Hammock frame means you'll be more likely to take it along in the RV or to the campground on the weekend, not to mention set up and enjoy your hammock at home.  An RV wall bracket is included, plus a another bracket to mount to your deck, post, shed, or house....AND, we included another bracket with a tree-strap/ratchet so you can use the hammock almost anywhere.  
Tech is part of everyday life: The sliding, frame-mounted bracket on the Aire Nest Deluxe Hammock accepts a CTA Digital tablet stand...best tablet stand on the market. (and included!)  The stand is designed to quickly accept and hold your iPad/tablet securely in any position so you can view it hands-free. (a "hands-down" winner of an idea we think!  :)  The CTA Digital stand slides right out so you can use it free-standing anywhere indoors ...perhaps on the kitchen counter or in conjunction with a wall/under-cabinet bracket. (also included!)
Try the Aire Nest DELUXE Hammock and Enjoy a new type of retreat!  
Spoil your spouse or special someone in your life!
Mother's day is coming soon....Surpise her with a gift she'll use.   
Father's day is coming soon. Treat him to his own Aire Nest!
The new Air Nest DELUXE Hammock is now being offered by the premier builder of quality motorcoaches, Newmar Corporation.   Look for the Air Nest DELUXE Hammock as an option on different models in the exciting Newmar motorcoach lineup!
Keeping up with the demand for our new RV partner, Newmar Corporation, requires us to temporarily limit the quantity of Air Nest DELUXE Hammocks we can ship to other customers.  Later this year should see additional production capacity and shipping restrictions gone shortly thereafter.  
Keep watching...We may begin offering wholesale distribution or product licensing opportunities later this year!